Last Updated on October 25, 2021 by Guillermina
Growing spinach from seed indoors?
Spinach is a popular superfood. That means, eating spinach will give you loads of nutrients in a low-calorie package. It has a dark, leafy structure that you can add to a lot of recipes. You can even make a spinach spread for breakfast.
Spinach is essential for your overall health. They provide protein, iron, vitamins, and minerals. Having your own spinach plant in the home is a wise move to have an abundant supply of spinach without growing back and forth to the grocery.
Let's get the ball rolling and learn how to grow spinach indoors.
Growing Spinach from Seed Indoors The Right Way
Many first-time gardeners find it hard to grow plants indoors. This is because indoor settings lack the natural sunrise that is needed for the plant's photosynthesis. Nevertheless, there are so many ways to successfully grow spinach from seed indoors.
 The key is to place the plant on a windowsill. This gives them the right amount of sun exposure needed for them to grow. Here are some tips you can follow when growing spinach from seeds.
Winter 
Growing spinach from seed indoors during the winter is definitely possible. In fact, spinach is an excellent choice for over-winter production as it's extremely cold hardy. When winter comes, the anti-freeze features of the plant activates.
Just keep your plant on the windowsill. Grow is slow during the winter but the good news is that spinach has a high winter survival rate. You can also use grow lights to balance the temperature and exposure of your spinach. 
Fall
How to grow spinach includes knowing the best time to plant it. When fall comes, you know that it is time to plant spinach. Just prepare a seed tray, potting mix, and a small shovel. 
Prepare the egg tray and then bury the seeds at least 1 inch apart from each other. Spinach germination is faster during fall, so you can have your spinach growing after a few weeks. 
Once you see some seedlings, you can replant them in a new pot. You can have a single spinach plant in one medium-sized pot. Then put it on the windowsill. 
Spring
If you are planting during spring, you need to find a great place where there is enough shade for your spinach plant. Nevertheless, you need to sow spinach seeds in a pot at least 6 inches deep, and plant at a depth of 1/2inch. Water it frequently but don't allow it to get soaked in too much water. 
What Is The Best Spinach Growing Temperature?
Growing spinach from seed indoors is not difficult. Again, when you have the perfect blend of the watering technique, sunlight, and temperature, you will definitely be growing healthy spinach at home.
Within 7-10 days, you will see the first sign of sprouting from your spinach plant. During light rainy days, you can remove the plastic cover for a good soaking.
The best temperature is between 50⁰ F and 60⁰ F. If your spinach is still at the seedlings stage, it can tolerate temperatures as low as 15⁰ F to 20⁰. Keep your spinach's soil moist. It may die if you leave it bone dry. When spinach bolts, it sends up a strong central stem to produce seeds. 
It becomes bitter and inedible. 
Hence, if you live in regions with normally dry weather, you need to supply the soil with water. It supports spinach germination. But don't water the leaves as too much moisture can encourage fungal growth.
Tips When Growing Spinach Seeds Indoors
Secure spinach seedlings planted in the tumble from the cold by covering with wool or a cloche. 

Shade spinach crops in a sweltering climate to stop the dirt drying out and the spinach plants from shooting. You can do this by establishing them close to post – or sprinter – beans which as they develop will give shade to shield the delicate spinach plants from the hotness of the sun. 

Shield youthful spinach seedlings from slugs, snails, and birds. 

Water and treat spinach plants consistently, yet attempt to try not to get the leaves wet.
Harvesting Your Indoor Spinach Plant
Summer spinach cultivars – you can for the most part pick summer assortments of spinach from May to October. 
Winter spinach cultivars – these can be reaped between October and April. 
'Reap a couple of leaves all at once from each plant. This will permit the plants to keep delivering the entire season,' exhorts Simon Crawford. 
Other cultivating specialists encourage to reap each substitute plant for use in the kitchen, giving the rest more space to develop. 
Watch out for spinach crops as the plants typically fill faster in hotter climates. There are possibilities for how to pick the leaves for a later gather. 'You can cut individual external leaves when the plants are 3 inches tall and permit the internal passes on to keep on developing for later reaps. Or then again cut the entire head when the plant is 6 inches tall and hang tight half a month for regrowth and a subsequent reap,' exhorts Melinda Myers. 
Child leaves are extraordinary for use in servings of mixed greens, though mature leaves can be withered into soups, stews, pasta, or risotto dishes, to give some examples. 
Leaves are unmistakably utilized straightforwardly subsequent to gathering for the best character, and any additional items can be put away in the ice chest for as long as 14 days.
Learn more about Tips On Growing Shiso Indoors
Growing Spinach from Seed Indoors: Your Takeaway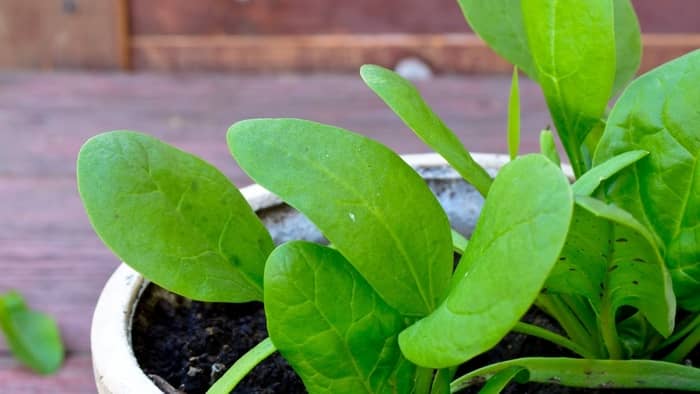 Understanding the proper way of growing spinach from seed indoors is key to harvesting healthy spinach. This way, you can be successful with crops every year. Moreover, having your own spinach is the best way to have access to healthy and organic spinach.
Enjoy your fresh-picked, crisp leaf spinach in salads and cooked dishes without spending some dollars in the grocery store. Besides saving you some cash, it also saves you time. Homegrown spinach is also great-tasting and very delicious.
Tuned for more tips on indoor planting. Got any friends who need some help on growing spinach indoors? Feel free to share these tips on your social media channels.